Freshwave wins the Fixed Wireless Access Award at Connected Britain with their mobile private network project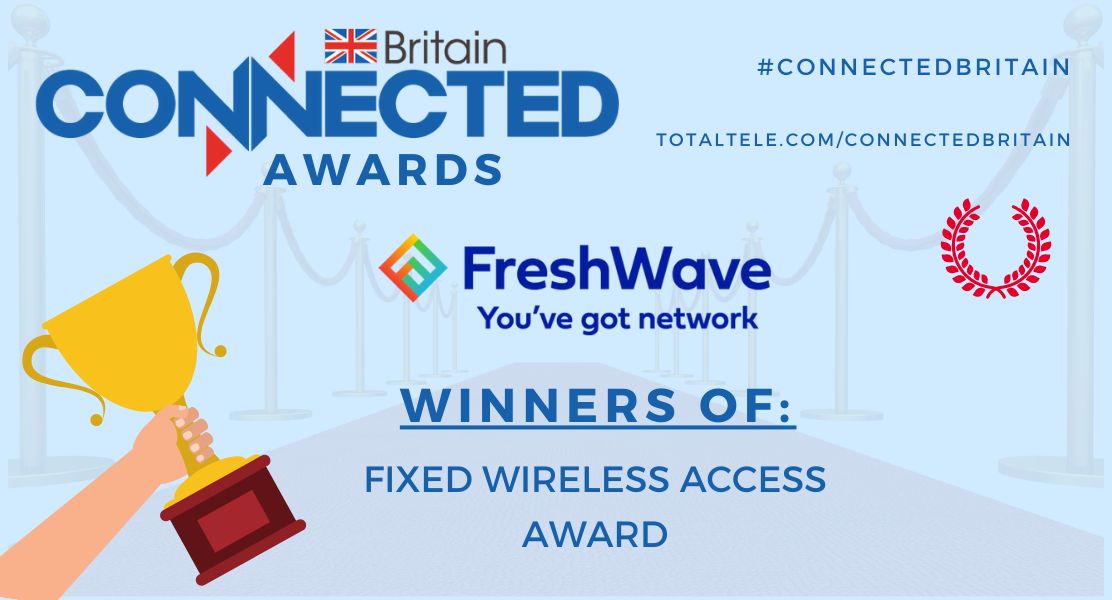 Freshwave is pleased to have won the Fixed Wireless Access Award at Connected Britain for delivering the UK's first shared spectrum mobile private network with small cells. The Fixed Wireless Access Award recognises an organisation who can demonstrate a successful fixed wireless access initiative.
This is Freshwave's second award win for this project, having previously won the "Excellence in Commercial Deployment by an Alternative Service Provider" category at the Small Cell Forum's Small Cell Awards in May.
Freshwave's winning deployment is at a UK holiday park. It uses shared licensed spectrum and small cells to deliver 4G data speeds via a secure mobile private network to lodges in the park. The solution includes a managed service with 24×7 monitoring of the radio points and core via Freshwave's network operations centre. Not only do the guests enjoy a robust and stable connection, but operational services, such as sales, maintenance and housekeeping, are also able to use the network.
Simon Frumkin, CEO of Freshwave, said: "We're thrilled to have won another award recognising our pioneering approach to mobile private networks. This would not have been possible without the incredible technical expertise of our team who excel at developing fresh solutions to new challenges. Our approach is proving very popular with holiday parks around the country and we're pleased to help bring network to all those parks' guests and staff."
Freshwave collaborated on this project, and other similar ones it's rolling out across the UK, with telecoms reseller Online Systems.
The awards were presented at the end of the first day of Connected Britain on 21st September.
If you'd like to learn more about our mobile private network services, please contact us.